TIME Magazine recently published an article that, in summary, stated "internships are the next entry level job", and for many students, this has the ring of truth. And while it can be hard to calculate the exact number of interns in any given year, what we do know is that more than 62% of the Class of 2017 reported doing some type of internship during their college careers. This is up from about 50% in 2008 and 17% in 1991, according a 2018 analysis of several National Association of Colleges and Employers (NACE) Surveys. And this is only expected to increase as more employers indicate their desire to hire students with "at least some internship experience", again according to several NACE studies.
There is also an indication that a wider range of industries and companies are creating internship programs. Gone are the days where a few highly specialized industries offered internships. Gone too are days where only the biggest had internship programs. According to just some Internship.com's listings, you can find internships in:
Accounting
Banking
Criminal Justice
Education
Engineering

Fashion
Government
Human Resources
Journalism
Marketing

Psychology
Public Health
Radio
Sales
Theater
Suffice it to say that, the long history of internships – collectively defined as paid or unpaid training programs set apart from regular work- is expected to continue and grow to include an even larger percentage of students from a variety of backgrounds. And it's not hard to see why: interns gain a myriad of benefits, including relevant, first-hand experience, valuable understanding of their field, networking opportunities with future colleagues and employers, and so much more. Paid or unpaid, interns are better equipped with the skills needed pursue employment in the 21st Century. But what are the benefits to the business?
One of the biggest benefits to your business is development of a vetted pipeline of experience candidates. Additionally, internship programs can help you sidestep a major issue you may be facing: talent retention. The infographic below breaks it down: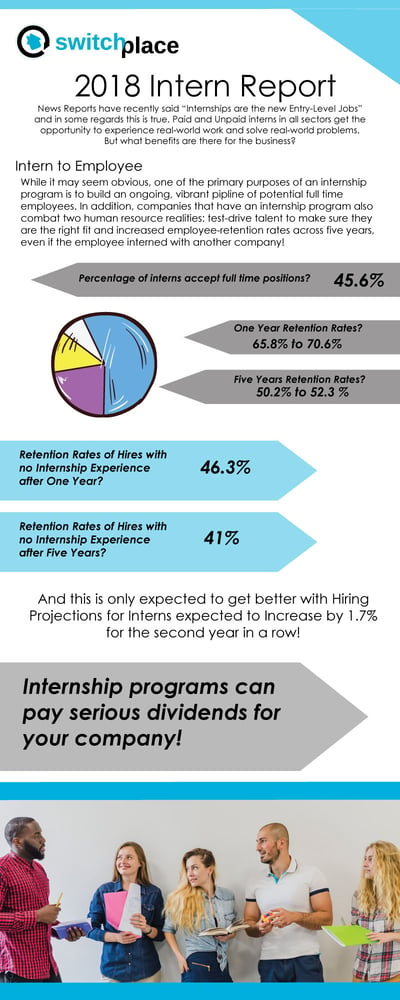 Info based upon data from NACE 2018 Internship & Co-op Survey Report and the 2018 Guide to Compensation for Interns & Co-ops
Now that you've see the benefits of having interns, what are some of the best practices that we've seen in growing and maintaining a successful internship program? With our team's wealth of knowledge regarding intern management, we have narrowed down all the advice to three overarching ideas, that we've listed below. Be sure to click on each point to take a deep dive into that idea for our best advice an
Interns want real world experience

: Interns who are engaged in real, meaningful projects and tasks make the best interns. Showcasing the interns' work via an expo, presentation, or competition at the end of their time with you is a

lso a great way to keep them engaged.

d suggestions.

Communication, Communication, and more Communication: It is vitally important that all the players involved- from C-Suite down to the Intern Manager – are clear of the goals and parameters for the internship program. One suggestion that we like the most is a portal or web page that houses all the information in one place. In addition, setting clearly defined expectations up front can help your interns be open and honest with their needs from you.
Teamwork and Planning Ahead Makes the Dream Work: the best internship programs we've worked with have had a small team of people who are clear on their roles and are working within a clearly defined timeline.
If 20 years of experience and management of 1000+ yearly interns have taught us anything, it's that high-quality internship programs are extremely rewarding for the company, employees, and the interns. And the best part is that you don't have to be a Silicon Valley Giant to have a great internship program; business of all shapes, sizes and industries can benefit! We hope that these resources will give you the insight you need to start your own program or grow your current program to new heights.